Tracker
In the ninth episode of the season "Tracker" we meet a new runner named Kiryk played by Mike Dopud. Dr Keller is going to visit a world where the local village is in need of some basic treatment, Rodney decides to tag along and to his annoyance so does Ronon. As Jennifer examines a native woman the boys go to the local tavern and when they return Jennifer is missing and Ronon attempts to track her movements. He discovers she was taken by a single individual and the pursue but are foiled by some clever traps being set. Keeler learns that she has been taken to provide treatment for a young girl who the Runner is protecting but the Wraith turn up and now it's a question who will get to their quarry first.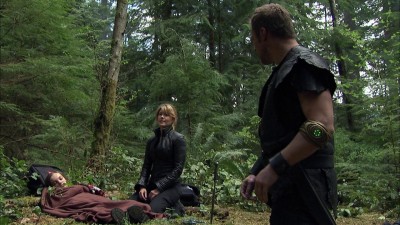 There isn't a lot to say about Tracker since the story is fairly basic but it is an episode that focuses on character and we get that in spades with the performance of Mike and Jewel, the dynamic is well written and performed especially when we compare the portrayal of Keller in the earlier episode Missing, lots of character growth for the doctor. It's not to say there isn't plenty going on, the added impetus provided by the arrival of the Wraith sets up some good set piece action sequences and it's interesting to see another Runner and his particular skill set aided by the alien transportation device. It also goes without saying that the woodland used to film the episode looked spectacular with some great shots captured and the commentary track for the episode goes into detail the issues which they had to overcome on this location shoot.
Tracker overall is an above average episode, not quite in the top tier but well worth a rewatch and of course we get to see Mike return the Stargate franchise in the second season of Universe.
This weeks podcast promo is for Nutty Bites the ever entertaining chat themed roundtable which discusses all things geek. Next week we are joined by Thomas for "First Contact" the first episode in a two parter where a new to the Pegasus alien species is introduced and who seriously shake things up, well whenever Daniel visits things happen 🙂
Thanks to Levi, Mack and Steve for the feedback, always appreciated and we'd love to get more so don't be shy if you have something to say, you can email us or use this sites contact forms and we are also on Facebook, Tumblr and Twitter so plenty of options.
Promo…
Links…
Mentions…
This slideshow requires JavaScript.
Podcast: Play in new window | Download | Embed
Subscribe: Apple Podcasts | RSS