Skin Deep
Well here we are again, the first piece of new content for the archive site and it's going to be a look at Once Upon A Time and more specifically a Robert Carlyle episode from the first season entitled "Skin Deep". In this episode Rumplestiltskin meets Belle for the first time after agreeing to end her fathers war with the trolls. Meanwhile in Storybrooke Mr Gold is imposing his own business ethics on Moe (Belle's father) after he failed to repay a loan. David and Mary Margaret continue to their dance unaware of who they once were and Emma now the sheriff investigates a robbery of Gold's home, a very important item has been stolen.
Skin Deep is a very rewarding look into this show's version of Beauty and the Beast, there are some wonderful moments between Rumplestiltskin and Belle never more so after the Queen's interference which leads to some home truths being dished out to the dark one.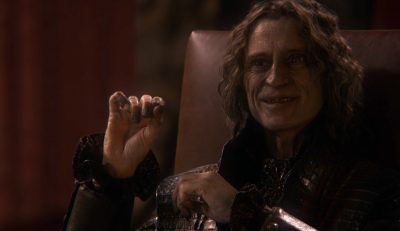 Our thanks to No Spoilers Dearie on twitter who helped us to decide what we were going to do for a first piece of new content for this site and while it's not a full Once Upon A Time podcast we hope this is acceptable.
Our next episode will probably be taking a look at Children Of The Gods (Final Cut), no schedule for release but it has been recorded so while we won't be sticking to a weekly release we hope at least to maintain regular new content for the immediate future. The primary site for Gatecast will now be switching to Stargate Archives, new content will be posted there first and the site has it's own own itunes entry if you care to subscribe. A few days after posting new content on that site it will be mirrored here until this site is permanently closed when the hosting runs out, we won't be paying to keep two sites running and after this one was hacked the broken links are too much trouble to fix 🙂
This slideshow requires JavaScript.
Podcast: Play in new window | Download | Embed
Subscribe: Apple Podcasts | RSS