Teyla is having dreams of the father of her child bidding her to come and rescue him and the rest of the Athosians who went missing months before, in the dream he gives her a necklace which he bought for her on an off world market, it's a clue to their location. Teyla along with the team visit the world and discover a stall selling jewellry and trinkets and he reveals that a trader has been bringing him good quality goods for a few weeks and he is due back soon. Meanwhile Dr Keller is investigating a disease which is spreading quickly across a number of worlds, it seems a mystery but eventually they discover it's a variant of the Hoffan drug and they take a trip to that world in search of some clues but there was nothing to be found after the Wraith wiped the population out yet it seems someone has been there since. Teyla along with Major Lorne and his team return to the trading world and capture the rogue trader, he agrees to take them to the burial site where he has been acquiring these "goods" but on arrival a Wraith dart arrives and scoops up Teyla, it seems it was a trap to capture her all along. Once again Todd uses the Wraith tracker to arrange a meeting with John and after some friendly accusations a mutually beneficial agreement is made, Todd needs to understand the Hoffan drug and develop a cure for his hive and the team need his resources to find Teyla. It pays off when Todd informs that they chatter between Wraith worshippers indicates a member of Atlantis is being held prisoner, the location is given and the team along with the Daedalus pay it a visit. In the complex a big fire fight takes place and in orbit a Wraith cruiser jumps in, it's Michael's ship and a captured bad guys indicates Michael is returning with his latest prize, John tells the Daedalus to capture the cruiser but it escapes but if Teyla was onboard why did the guards fight so hard to defend this prison? The break into the final cell and well a surprise is waiting for them, it was no lie that Michael was indeed holding a member of Atlantis prisoner just not the one they expected…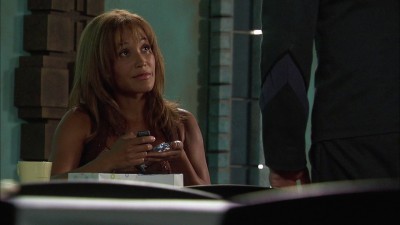 The Kindred is a two part story filmed a little earlier in the production cycle to allow Rachel to be fully involved before taking time off from the show to have her child, she is very pregnant and a lot of credit has to be given for the commitment she showed in what was an intensive episode for her character. The story itself makes full use of all the little things we know about the Wraith and Michael in particular so nothing feels out of place except perhaps for how resilient Michael is, the guy is a born survivor and no matter how hard you squish him he always springs back. I liked how Carter was very reluctant to believe Teyla and her dreams not having direct experience of the events that shaped Teyla into who she is now but surprised how on the fence her other friends were but she got what she wanted alas so did Michael. As for the surprise ending of the episode well the fact that kept that underwraps really paid off, it was a serious WTF moment and in the second part of the story it's all going to get explained in a way that is most satisfying.
The Kindred Part 1 sets the scene as well as being a very good piece of Stargate storytelling and it's good to seeing Rachel really getting to be center stage, more of the same next week in the second part so a lot to look forward too. This weeks promo is for the Saturday B Movie Reel and next week are going to watch The Kindred Part 2 and Brad will be joining me for that, we hope you can join us as well and let us know what you think of the episode and our show.
Promo…
Links…
This slideshow requires JavaScript.
Podcast: Play in new window | Download | Embed
Subscribe: Apple Podcasts | Android | RSS