Malice
Simeon always a dark presence amongst the Lucian Alliance detainees strikes with malice when he learns that his clansman Ginn has used the communication stones to visit Earth and briefs Homeworld on the impending attack on the planet. He kills Amanda and the connection between the two women seals Ginn's fate which causes heart break for both Rush and Eli, Rush however is more assertive and doesn't wait for permission to peruse Simone through the gate onto the planet which Volker dialed under the threat of Park being killed.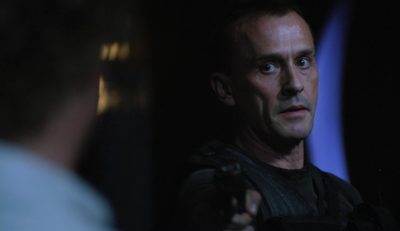 A game of cat and mouse then begins as Simeon lays trap after trap to thin out the numbers of his pursuers, eventually Greet gets shot and Scott reevaluates but turns to find that Rush has once again gone off by himself, he finally corners the wounded Simeon and plays the desperate yet helpless victim luring the Lucian soldier into a very devious trap indeed. An explosion rocks the valley and a rumble is heard, Simeon turns and sees his fate rushing towards him.
Malice is a wonderfully dark episode full of anger and vengeance with desperation and some of the most beautiful location shooting to ever grace Stargate it not and science fiction series made. The environment truly looks alien yet the western themes run strong and you could easily picture this being viewed in a theatre back in the day when westerns were all the rage in Hollywood. Robert Knepper signs off his stint on Universe with a fantastic performance and Robert Carlyle portrays the driven man to perfection.
I have to say after the side step with our bonus episode return to Universe with Malice was perfect scheduling, an episode that kicks off this new year with drive and passion and more to come as we look to the second half of the final season of Universe. Our thanks to Stephen for making a long awaited return to the show but as you heard in the podcast the lad has been busy and thanks to Mack for the feedback. This weeks promo was for The Scifi Diner podcast and next week we are going to be taking a look at the episode Visitation, hope you join us for that.
Our gratitude for your patience as well, still feeling some of the aftereffects of the website issues, the database and links are still damaged but working on it.
Promo…
Links…
This slideshow requires JavaScript.
Podcast: Play in new window | Download | Embed
Subscribe: Apple Podcasts | RSS