Atlantis continues to drift aimlessly through space after damage from the Asuran energy weapon ruptured her primary power conduits however a wild and crazy idea was dreamt up to raid the Asuran homeworld for a ZPM which would allow the city to engage it's hyperspace engines and make it to it's new home. Elizabeth along with Rodney, John and Ronon use the enhanced jumper and infiltrate the Asuran city and remarkably steal a ZPM but instead of getting out clean they discover a way to turn on the core component of the replicator code which was designed to provoke them to attack the Wraith. As the infiltrate the core of the city they are discovered and Elizabeth enters into the fray and she attacks Oberoth directly, her nanites against his and the dance begins.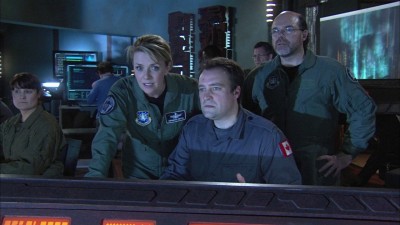 Lifeline was a fitting conclusion to Elizabeth's time on Atlantis, there was never a doubt she would sacrifice herself for her people and here she demonstrates it and it wasn't by accident, she knew this was always going to be a possibility and she bought the lives of her people with her own. Jack would have been proud and maybe that was the only story/character element I would have liked to have seen explored in what was an epic three part story. We had a little bit of Dr Lee who as always was a laugh and of course we see the Apollo in action without Asgard beam weapons, maybe it's awaiting retrofitting and has to make do with missiles and railguns but it put up a good display against the unknown spec of the Asuran warship which looked like a jumper on steroids (at least to me). Of course you had to laugh when the writes made sure the hyperspace capable jumper was not going to be monkey on their back when writing new episodes, they learnt their lesson from the beaming technology.
A big thankyou to Ian for joining me for this show, this was his first time on the podcast although he interacts a lot via twitter and is patiently going through our entire back catalogue which is an impressive task in itself, I know I've done the same for other podcasts which I've started listening to after they have been around a while. This weeks promo is for Under The Dome Radio which covers the tv series Under The Dome which returns to US screens on the 25th of June and next week we are taking a look at the third episode in this season of Atlantis "Reunion".
Promo…
Links…
Mentions…
This slideshow requires JavaScript.
Podcast: Play in new window | Download | Embed
Subscribe: Apple Podcasts | RSS