Life
In Life Scott and Camille return to Earth while on board Destiny TJ is assigned the task of doing the rounds of the entire crew and having a casual chat with them. The continued search of the ship aided by the improved power status reveals a new section which houses a strange looking chair, Rush believes it is a very early version of the Ancient repository of Knowledge and immediately begins to campaign for its use. Young is sceptical given the dangers inherent in the attempt and points out that instead of hoping for someone to volunteer if Rush thought it was safe he should use it on himself.  On Earth Scott learns his former girlfriend Annie Balic has a son, he visits her home (as Telford) and she does reveal the Scott is the father, he offers her his monthly paycheck which she accepts but refuses to abandon her lifestyle to live an image that Scott believes she should. Camille has a wonderful visit with her partner Sharon Walker who is aware of the mission and we learn that Camille is estranged from her more conservative parents, it seems Camille is under pressure from her family and workplace in regards to her chosen life which may explain why she projects a cold and analytical persona upto a point.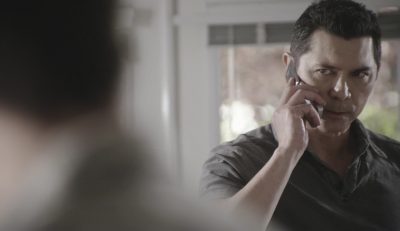 When Scott returns to the Destiny he tells Young that he has been dreaming of Telford and his interaction with his wide, Young does not take this well. Rush meanwhile has discovered a planet which could provide the energy required to power a nine chevron dialup but it's a year away, the crew are delighted until Eli discovers that it's fake and that's yet another black mark on the relationship between Rush and Young. The episode wraps with many of the crew in very introspective mood and dealing with events they have little control over and it closes with a close up of Spencer who we know has run out of his medication…
Life is a slow down from last weeks action themed episode and suffers a little but counters with some fantastic character pieces and insights into their onboard life and back on Earth. Scott has to deal with being a father after maybe running off to the military after knocking up his former girlfriend who he believed handled the situation. Camille however was a revelation, the relationship with Sharon was an outstanding look at a stable and loving couple who were dealing with an almost impossible situation. Every scene between the couple was beautiful as was Sharon's mask failing when she was alone and Camille paying respect to her parents while incognito, it may have been the first time they have talked in years. Life is an episode that will certainly appeal to a good portion of the audience and maybe not to others but there is no doubt there is an awful lot to like and enjoy in the episode.
Many thanks to Matthew for making a return to the podcast, we had much better audio this time around even if there was mild panic when we got our start times mixed up but it all got done. This weeks promo is for the Batcave Podcast which looks at the classic 1960's tv series. Next week we are going to be taking a look at the episode Justice where things really go off the rails big time, hope you join us for that and let us know what you think about any and all things Stargate.
Promo…
Links…
Mentions…
This slideshow requires JavaScript.
Podcast: Play in new window | Download | Embed
Subscribe: Apple Podcasts | RSS