It's that time of the year again and we are taking a break from our regular coverage of Stargate and for a few weeks taking a look at shows/episodes which feature the cast and crew of Stargate. This week we are watching Auto Eurodicka which is a third season episode of the US sitcom 3rd Rock From The Sun which features a series regular, recurring and guest actors who have graced Stargate on the big and small screen.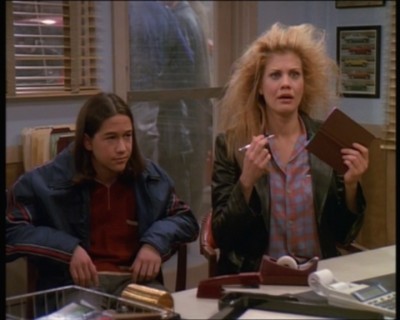 In Auto Eurodicka we find Dick Solomon going to watch a movie recommended by Mary Albright, he meets Anita and he quickly enters into a casual sexual relationship with her, being Dick he can't keep his mouth shut about it and has no shame in sharing the details until in the middle of class he reveals her name and finds that she is the mother to one of his students. Even then Dick needs some education on boundaries with both Mary and Nina giving his a slappin' but of course Anita's family played all by the DeLuise's with Dom as her ex-husband confront Dick and somehow he doesn't end up in hospital. The "B" plot of the episode deals with Sally and her infatuation with a Dodge Viper and her attempts to acquire the car, of course it's well out of their price range but as always this "alien" family learn more lessons from their failures and they end the day sitting on the roof beneath the stars with Dick holding a steak to his eye.
Third Rock from the Sun was an excellent American sitcom, I own the DVD boxset and you can dip into the show anywhere you want for a few laughs. As you've seen there is plenty of Stargate links in this episode and the series as a whole (thanks to French Stewart) but we also got William Shatner making a very memorable appearance from the fourth season onwards.
Next week we are going to be taking a look at an episode of Saving Hope, this will be discussed by Kriss and Alan so have a listen and let us know what you think. Over the next few weeks we will also be covering Flashpoint, Stargate Infinity and a special episode looking back at SG1.
Links…
This slideshow requires JavaScript.
Podcast: Play in new window | Download | Embed
Subscribe: Apple Podcasts | RSS