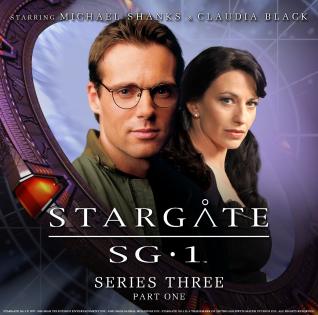 Series 3 of the Big Finish Stargate audio dramas are due for release later in the year (May 31st part 1) and is split into two parts, they can be pre-ordered from the Big Finish website now. Once again Michael Shanks and Claudia Black play their respective roles but for many it may be Cliff Simon returning as Ba'al which peeks people's interest.
CAST:
Michael Shanks (Daniel Jackson), Claudia Black (Vala Mal Doran), Cliff Simon (Ba'al), John Schwab (Major Hunter), Andrew Collins (Keto), Stephen Hogan (Olssen), Susan Franklyn (Rix), Alex Mallinson (Airman/Robot/Jaffa), Paul Hyu (Lt Colonel Yin), Andrew Whipp (Zoder), Regina Reagan (Wellan), Anna Tolputt (La'rath), John Banks (Korek)
SYNOPSIS:
A shooting in the heart of Stargate Command is only the beginning for Daniel Jackson and Vala Mal Doran.
Suddenly it's friend against friend, none of their allies can be relied upon and they're the universe's only hope to foil the latest scheme concocted by the last System Lord, Ba'al.
Will Daniel, Vala and a few of Vala's less than savoury friends be enough to stop a conspiracy that reaches deep into the heart of Stargate Command and threatens to destroy everything they've spent years building?
Thanks to Stargate Zone.